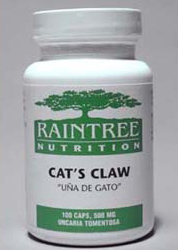 AMAZON CAT'S CLAW CAPSULES
Also known as Una de Gato or Uncaria Tormentosa
Some of the active ingredients documented and researched in cat's claw are 6 oxindole alkaloids.
These alkaloids have been documented worldwide by independent research and patented to nutritionally support the immune system. Is this a "TOA-Free" product? No! The main TOA alkaloid, isorhynchophylline, has been documented and patented to increase immune function (phagocytosis).
Price: £14.95 – 100 Capsules
For more complete information, follow this link to read about The TOA / POA Controversy.
For more complete information on this unique rainforest plant, please see the Plant Database File on Cat's Claw.
Additional Information on Cats Claw please see:
Cat's Claw – Wonder Herb from the Amazon
Click here if you would like CAT'S CLAW POWDER
Raintree's cat's claw capsules are sold in bottles of 100 capsules with 500 milligrams of pure dried, ground, alkaloid-rich inner
bark of cat's claw per capsule which are rich in these naturally occurring alkaloids.
Please, don't be fooled by anyone claiming that the root of Uncaria tomentosa is in some way superior to the inner bark. Philip N. Steinberg, Certified Nutritional Consultant and authour of the 'Cat's Claw News' says "I have seen no evidence of this and as mentioned before, harvesting the root is illegal and puts future availablity of the herb in jeopardy".
We use no binders or fillers. Based on independent assays, Raintree's cat's claw capsules has the highest alkaloid content of any standard inner bark capsules available. Total alkaloid content of tested samples from other available products range from .13% to 1.05%.
This represents a huge difference in quality and efficacy. Because of our commitment to quality, Raintree's alkaloid content has always assayed in a range of 1.2% to 1.58%. Compare this to the new "standardized extract" offered in health food stores with only 2 milligrams of alkaloids per capsule at a much higher price!
Raintree's cat's claw has been sustainably wild harvested in the Peruvian Amazon. It has grown naturally in the rainforest without pesticides or fertilizers. See pictures of Raintree's harvesting program of cat's claw here. This Raintree product is Unconditionally Guaranteed. To learn more about Raintree's plant harvesting and processing methods, please see the main page for bulk plants.
Ingredients: Each capsule contains 500 mg of pure 100% cat's claw inner vine bark (Uncaria tomentosa). No binders, fillers or other additives are used.
Suggested Use: Take 2 capsules twice daily, or as directed by a healthcare professional.
Contraindications:
Cat's claw has been documented with immunostimulant effects and is contraindicated before or following any organ or bone marrow transplant or skin graft.
Cat's claw has been documented with antifertility properties and is contraindicated in persons seeking to get pregnant.
Cat's claw has been documented with chemicals which can reduce platelet aggregation and thin the blood. It is contraindicated in persons with bleeding disorders such as hemophilia.
Drug Interactions: Based upon animals studies, cat's claw may protect against gastrointestinal damage associated with NSAIDs such as ibuprofen. May potentiate coumadin and blood-thinning drugs.
Other Practitioner Observations:
Cat's claw requires sufficient stomach acid to help break down the tannins and alkaloids during digestion and to aid in absorption. Avoid taking capsules at the same time as antacids.
Large dosages of cat's claw (3-4 gram dosages) have been reported to cause some abdominal pain or gastrointestinal problems including diarrhea (due to the tannin content of the vine bark). The diarrhea or loose stools tend to be mild and go away with continued use. Discontinue use or reduce dosage if diarrhea persists longer than 3-4 days.
Newsletter sign up

Shopping Cart

Your cart is empty

Notice – Please Read

The information provided in this website is intended for educational and informational purposes only. It is NOT in any way, directly or indirectly, an advertisement or claim for any actual Raintree product, nor should it be construed as such. The products and various statements contained within this website have not been evaluated by the MOH, BMA or the FDA and, as such, these products are not intended to treat, cure, mitigate or prevent any disease or ailment. The references contained herein relate to local, indigenous and traditional uses only. Raintree Health categorically "does not" offer professional medical advice. We would always strongly advocate that our visitors seek advice from their own GP, private doctor or medical specialist for any ailment, illness or medical condition. You know it makes sense!