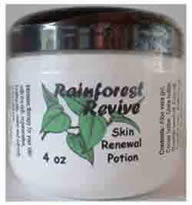 RAINFOREST REVIVE
Nature's Powerful help to reduce wrinkles, fine lines and aging skin
THE AMAZON SUPPORT RANGE©
Now you can share the knowledge of the Shaman's
Rainforest Revive
Revive, rejuvenate and nourish your skin with the essence of the rainforest!
120 mil Jar
Quantity:
Intensive therapy for your skin with the rich, emollient, regenerative, healing oils, resins and extracts of the rainforest.
Rich in naturally occurring nutrients including vitamins, minerals, antioxidants, essential fatty acids, and trans-retinoic acid.
Rainforest Revive attenuates wrinkles and fine lines, moisturizes, rejuvenates, nourishes and rehydrates the skin for a more youthful, supple look and feel.
Herbal Ingredients
Aloe Vera Gel
The properties of aloe vera have been described in numerous scientific journals which reveal that it contains more than 70 essential ingredients and nutrients including most vitamins, minerals, enzymes, protein, and amino acids. Aloe vera can aid in keeping the skin supple and has been used in the control of acne and eczema. Aloe's healing power comes from increasing the availability of oxygen to the skin, and by increasing the strength of tissue.Copaiba Oil (Copaifera officinalis)
Copaiba oil is actually an oleoresin tapped from the Amazon rainforest copaiba tree. This oily resin has a very high content of naturally occurring essential fatty acids that are the building blocks of healthy skin tissue. It has been documented with antibacterial activity and anti-inflammatory activity in various clinical studies which has validated its long history of traditional uses.
Andiroba Oil (Carapa guianensis)
This rainforest nut oil from the andiroba tree is a great source (up to 65%) of unsaturated fatty acids such as linoleic and palmitoleic acids which have documented benefits for skin health. Linoleic acid, an essential fatty acid that is important for the skin and the cell membranes, provides regenerative and restructuring virtues which allow better control of skin moisturization.
Rosehip Seed Oil (Rosa sp.)
Rosehip seed oil is a traditional natural product from Chile that moisturizes dry, mature, sensitive, aging and problem skin. It is considered a cellular regenerative oil which regenerates scar tissue, attenuates wrinkles and age spots and helps to prevent and fade stretch marks. It is a potent anti-inflammatory oil with polyunsaturated essential fatty acids and trans-retinoic acid that helps dermatitis, eczema or psoriasis by providing an immediate relief for dry skin. These benefits are due to the high amounts of natural trans-retinoic acid found in high proportion in Rosehip seed oil.
Cocoa Butter (Theobroma cacao)
A creamy yellow butter obtained from the roasted rainforest chocolate bean. cacao trees grow wild in the Amazon rainforest and are cultivated in many tropical countries. Cocoa butter has excellent emollient properties and is used to soften and protect chapped hands, lip and skin, absorbing quickly into the skin. It is good for all skin types and is particularly excellent for dry skin. The natural emolliency, moisturizing and antioxidant characteristics of cocoa butter make it an excellent choice for uses designed to rejuvenate the skin.
Shea Butter (Butyrospermum parkii)
Extracted from the nuts of the karite tree in South Africa. In June and July, the plum-like green berries are harvested. It is the pits of the berries that make this butter. Tests show that African Shea Butter, on its own, provides excellent protection against UV rays. It is high in vitamins E and A, linoleic acid, and fatty acids which makes it ideal for all types of skin and skin problems. It has a very soft yet non-greasy feeling and absorbs easily into the skin. Shea butter has been used for thousands of years in the African culture as the ideal treatment for dry and aging skin as well as a medicinal balm for rheumatism, muscle aches, burns, and light wounds
Sangre de Grado Resin (Croton lechleri)
A red resin tapped from the rainforest dragon's blood tree has demonstrated scientifically the ability to increase wound healing and collagen formation. Indigenously used in the rainforest for all types of skin problems and conditions including an anti-wrinkle and anti-ageing remedy.
Avocado Seed Oil (Persea americana)
Avocado oil is renowned for its healing, anti-bacterial, and anti-wrinkle properties. This highly therapeutic monounsaturated oil contains protein, vitamins A, D, and E, amino acids, and lecithin. It has been documented to stimulate collagen metabolism and increase the proportion of soluble collagen in the dermis thereby aiding skin elasticity and helps retard visible signs of ageing.
Emu Oil
A pure and natural emollient oil with many beneficial qualities that is gentle for all skin types. Softens dry rough skin and callouses , promotes healing and reduces scar tissue formation, hydrates and plumps up skin which helps reduce the appearance of fine lines and wrinkles.
Vitamin E Oil
This powerful antioxidant vitamin has the ability to penetrate the lipid cell walls to protect against oxidation. Vitamin E was first discovered to be anti-aging in that it reduced MDA (Malonyldialdehyde) in the skin. MDA negatively affects collagen, causing skin to lose its elasticity. Vitamin E has the ability help hydration on the skin surface which improves smoothness and softness.
Sold in 120 mil plastic jars.
Suggested Use: Apply directly to the skin as required.
Rainforest Revive is 100% natural! No chemicals, additives or preservatives are used and no animal testing is performed.
Drug Interactions: None reported.
Rainforest Revive
Here is a list of the herbal extracts used in this product. However in our quest for improvement and excellence, our products are being continually reviewed and modified as more data on the various plants becomes available.
As a result, the ingredients may be subject to change. Any changes will be reflected in the above list as soon as we have time to make the necessary updates. Thank You. Suggested Use: As an addition to the daily diet, take 2 capsules every 4-6 hours as needed or as directed by a health care professional
Thank you for your support and for choosing a Raintree product!
Newsletter sign up

Shopping Cart

Your cart is empty

Notice – Please Read

The information provided in this website is intended for educational and informational purposes only. It is NOT in any way, directly or indirectly, an advertisement or claim for any actual Raintree product, nor should it be construed as such. The products and various statements contained within this website have not been evaluated by the MOH, BMA or the FDA and, as such, these products are not intended to treat, cure, mitigate or prevent any disease or ailment. The references contained herein relate to local, indigenous and traditional uses only. Raintree Health categorically "does not" offer professional medical advice. We would always strongly advocate that our visitors seek advice from their own GP, private doctor or medical specialist for any ailment, illness or medical condition. You know it makes sense!