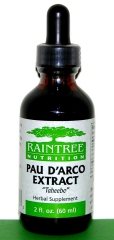 PAU D' ARCO EXTRACT
Scientists around the world have documented the active properties of pau d'arco and its chemicals including the widely studied chemicals, beta-lapachone and lapachol.
This huge rainforest canopy tree goes by several names including taheebo, lapacho, tahuari, and of course, pau d'arco. Raintree Nutrition's Pau d'arco Concentrated Extract uses new and proprietary extraction methods to concentrate and preserve the active ingredients found in this amazing rainforest tree.
Price: £25.95 – 60 mil / 2fl oz
The main active chemicals in pau d'arco require heat and alcohol to extract them as they are not very water soluable. Raintree's extract is rich in active and beneficial phytochemicals which occur naturally in this plant because we employ the best methods required based upon this plant's individual phytochemistry—with heat and alcohol.
The extraction methods utilized provides the equivalent of approximately 500 mgs of pau d'arco bark per milliliter of extract, resulting in a highly potent concentrated extract. For more complete information on this unique rainforest tree, please see the Tropical Plant Database File on Pau d'arco.
Ingredients: 100% pure pau d'arco (Tabebuia impetiginosa) bark extracted in distilled water and 40% ethanol.
Suggested Use: Take 60 drops 2 or more times daily or as directed by a health care professional.
Contraindications: Not to be used during pregnancy or while breast-feeding.
Drug Interactions: None reported.
Other Observations: Large single dosages of pau d'arco decoctions may cause gastrointestinal upset and/or nausea. Do not use in high doses unless under the advice of a qualified health practitioner; reduce dosage if nausea occurs.
Newsletter sign up

Shopping Cart

Your cart is empty

Notice – Please Read

The information provided in this website is intended for educational and informational purposes only. It is NOT in any way, directly or indirectly, an advertisement or claim for any actual Raintree product, nor should it be construed as such. The products and various statements contained within this website have not been evaluated by the MOH, BMA or the FDA and, as such, these products are not intended to treat, cure, mitigate or prevent any disease or ailment. The references contained herein relate to local, indigenous and traditional uses only. Raintree Health categorically "does not" offer professional medical advice. We would always strongly advocate that our visitors seek advice from their own GP, private doctor or medical specialist for any ailment, illness or medical condition. You know it makes sense!