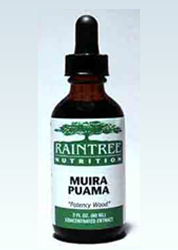 MUIRA PUAMA
A Natural Aphrodisiac for MEN
Muira puama is rainforest botanical traditionally used in South America to increase sexual desire, libido and performance.
Raintree's double concentrated extract utilizes new technology to concentrate and preserve the active phytochemicals in this high quality Amazon plant.
Price: £25.95 – 60 mil / 2fl oz
The active constituents in muira puama are a group of terpenes, phenols and a resin which are not soluble in water (or the stomach acid). Taking ground bark capsules will provide little or any benefit.
Our research with this important rainforest plant has resulted in a proprietary extract which is unmatched in other products. Raintree's Muira Puama Concentrated Extract is processed with heat and high grade alcohol ensuring a product which is rich in soluble bioavailable active ingredients and provides the highest benefits possible.
Additional Information:
Muira Puama For the boys from Brazil
Raintree's high quality Muira Puama concentrated liquid extract from the Amazon Rainforest is a safe and effective alternative to increase sexual desire, libido and performance and which was recently featured in a Discovery Channel Health Article.
Don't settle for less or judge the effectiveness of muira puama on inferior products! To learn more about this wonderful rainforest plant, go to the Tropical Plant Database file on Muira puama.
Ingredients: Muira puama bark and root (Ptychopetalum olacoides) extracted in distilled water and 40% ethanol.
Suggested Use: Take 60 drops (2 ml) 2 or more times daily, or as directed by a healthcare professional.
Contraindications: None reported.
Drug Interactions: None reported.
Other practitioners observations : Unlike other sexual stimulants, muira puama has been used in combination with antihypertensive drugs without problems or side effects.
Newsletter sign up

Shopping Cart

Your cart is empty

Notice – Please Read

The information provided in this website is intended for educational and informational purposes only. It is NOT in any way, directly or indirectly, an advertisement or claim for any actual Raintree product, nor should it be construed as such. The products and various statements contained within this website have not been evaluated by the MOH, BMA or the FDA and, as such, these products are not intended to treat, cure, mitigate or prevent any disease or ailment. The references contained herein relate to local, indigenous and traditional uses only. Raintree Health categorically "does not" offer professional medical advice. We would always strongly advocate that our visitors seek advice from their own GP, private doctor or medical specialist for any ailment, illness or medical condition. You know it makes sense!