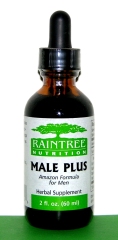 MALE PLUS ……….Amazon viagra For Men
A 'Herbal Viagra' alternative for more desire and better performance!
THE AMAZON SUPPORT RANGE©
Now you can share the knowledge of the Shaman's
MALE PLUS…for MEN
Can help to put your libido back where it belongs!
Price: £25.95 – 60 mil / 2fl oz
Male Plus was developed exclusively for men and contains four powerful herbs from the Amazon Rainforest including Muira puama and Catuaba, two Brazilian plants that have been used for a long time in Brazil as male libido enhancers, male tonics, and supportive of male sexual organs and systems.
The key ingredient of this dynamic formula is a highly concentrated extract of Muira puama. Recent clinical research has shown an herbal extract of Muira puama to be highly effective in over 64% of 362 men studied in increasing libido:
The remaining ingredients in Male Plus work synergistically with Muira puama balancing and supporting male systems, as well as supporting sexual desire and libido. Exclusive to Raintree, this dynamic herbal formula combines specially prepared proprietary extracts of the following sustainably harvested rainforest plants;
Published in Healthy & Natural Journal,
MALE PLUS combines four extremely powerful extracts, each are working in total synergy with the others. Increasing libido and successfully treating the majority of impotence, both organic and psycho-genic-related. Indeed, one of the herbs In MALE PLUS is Catuaba, which is the most famous aphrodisiac in Brazil. These herbs are blended together, using the ancient and empirical herbal wisdom of the Shaman's in supporting the male libido and sex drive.
Exclusive to Raintree, this dynamic herbal formula combines specially prepared proprietary extracts of the following sustainably harvested rainforest plants. To learn more about each ingredient, click on the plant names below to go to the database file on each plant.
This safe, all natural, synergistic blend of botanicals utilizes proprietary extraction methods to concentrate and preserve the active principals found in each plant source and is blended with 40% alcohol to stabilize the formula. Each botanical is extracted individually using new technology to extract and concentrate the active constituents found in these powerful Amazon plants.
The end result is a effective, safe, unique, high quality, double concentrated formula with a repeat customer following including medical doctors and other health care professionals. Sold in a 60 ml amber glass bottles with glass eyedropper tops, the recommended dosage is 30 drops 1-2 times daily. Each 60 mil bottle has approximately one month's supply, depending on use.
Newsletter sign up

Shopping Cart

Your cart is empty

Notice – Please Read

The information provided in this website is intended for educational and informational purposes only. It is NOT in any way, directly or indirectly, an advertisement or claim for any actual Raintree product, nor should it be construed as such. The products and various statements contained within this website have not been evaluated by the MOH, BMA or the FDA and, as such, these products are not intended to treat, cure, mitigate or prevent any disease or ailment. The references contained herein relate to local, indigenous and traditional uses only. Raintree Health categorically "does not" offer professional medical advice. We would always strongly advocate that our visitors seek advice from their own GP, private doctor or medical specialist for any ailment, illness or medical condition. You know it makes sense!