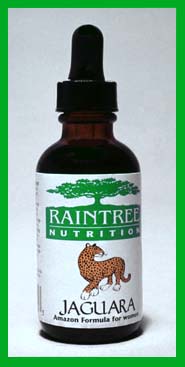 JAGUARA - Aphrodisiac for WOMEN
Jaguara Amazon Formula for Women was developed to help women put the pounce back into their love life.
Jaguara in the Amazon means "she who pounces" and describes the beautiful, sleek and powerful female jaguar of the Rainforest.
Jaguara Amazon Formula for Women combines the ancient and empirical herbal wisdom of the Shamans in the Amazon Rainforest for supporting female libido and sex drive with the latest technology in herbal extraction methods.
Put the pounce back into your life with Jaguara! For more information on the individual ingredients in Jaguara, follow the links provided in the  Tropical Plant Database.
Price: £25.95 – 60 mil / 2fl oz
Each rainforest botanical in the Jaguara formula is extracted separately utilizing the most advanced method to extract and concentrate the specific active and beneficial phytochemicals found in each individual plant source.
The individual extracts are then blended together and high quality alcohol is added to stabilize and preserve the active ingredients. This provides the equivalent of approximately 500 mgs of herbs per milliliter of extract – resulting in a highly potent concentrated extract.
60 mil £29.95
Ingredients: A proprietary blend of catuaba, clavo huasca, abuta, maca, chuchuhuasi, suma, damiana and sarsaparilla extracted in distilled water, 30% ethanol and 20% glycerine.
Suggested Use: Take 60 drops (2 ml) twice daily.
Contraindications:
Not to be used during pregnancy or while breast-feeding.
Do not use in estrogen-positive cancers.
Drug Interactions: May enhance the effect of blood pressure drugs.
Other Practitioner Observations: Abuta has been documented to reduce blood pressure in animal studies. Individuals with low blood pressure should be monitored for this possible effect.
Newsletter sign up

Shopping Cart

Your cart is empty

Notice – Please Read

The information provided in this website is intended for educational and informational purposes only. It is NOT in any way, directly or indirectly, an advertisement or claim for any actual Raintree product, nor should it be construed as such. The products and various statements contained within this website have not been evaluated by the MOH, BMA or the FDA and, as such, these products are not intended to treat, cure, mitigate or prevent any disease or ailment. The references contained herein relate to local, indigenous and traditional uses only. Raintree Health categorically "does not" offer professional medical advice. We would always strongly advocate that our visitors seek advice from their own GP, private doctor or medical specialist for any ailment, illness or medical condition. You know it makes sense!