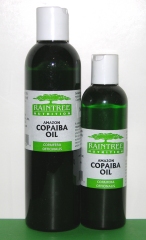 COPAIBA OIL
Copaiba oil contains a significant amount of kaurenoic acid, a diterpene plant chemical that has been of scientific interest.
Copaiba is also the highest known plant source of another chemical named caryophyllene.
Caryophyllene is a well known plant chemical which has been documented in laboratory studies.
Price: £25.95.  60 mil Bottle
Many of copaiba's traditional uses and tested biological actions are attributed to these two chemicals.
To learn more about this wonderful rainforest plant, go to the Tropical Plant Database file on Copaiba.
Direct from the Amazon, Raintree Nutrition's Copaiba Oil is 100% pure without any additives or preservatives. It is rich in active and beneficial phytochemicals which occur naturally in this plant.
This high quality product has been sustainably wild harvested in Amazon Rainforest by tapping the tree, much like tapping for rubber or maple syrup. It is a wonderful sustainable resource from the rainforest. This product is backed by Raintree's Unconditional Guarantee.
Ingredients: 100% all natural Copaiba resin (Copaifera officinalis and Copaifera langsdorffii). It is a wild harvested product—grown naturally in the Brazilian Amazon without any pesticides or fertilizers.
Suggested Use: Internal use: Take 30-60 drops (1-2 ml) twice daily. External Use: Apply directly to skin as desired.
Contraindications: Not to be used internally during pregnancy or while breast-feeding.
Drug Interactions: None reported.
Other Practitioner Observations:
Avoid contact with mucous membranes, as the resin can act as an irritant.
Those sensitive to the resin may experience a measles-like rash accompanied by irritation, itching and/or tingling when using topically or taking internally. Discontinue use if these effects occur or cut with another oil.
Do not take internally in large dosages (more than 5 ml). Large dosages have been reported to cause nausea, vomiting, fever, and rashes. Discontinue or reduce dosage if these effects occur.
Newsletter sign up

Shopping Cart

Your cart is empty

Notice – Please Read

The information provided in this website is intended for educational and informational purposes only. It is NOT in any way, directly or indirectly, an advertisement or claim for any actual Raintree product, nor should it be construed as such. The products and various statements contained within this website have not been evaluated by the MOH, BMA or the FDA and, as such, these products are not intended to treat, cure, mitigate or prevent any disease or ailment. The references contained herein relate to local, indigenous and traditional uses only. Raintree Health categorically "does not" offer professional medical advice. We would always strongly advocate that our visitors seek advice from their own GP, private doctor or medical specialist for any ailment, illness or medical condition. You know it makes sense!

Related Posts