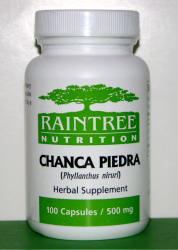 CHANCA PIEDRA CAPSULES
Chanca piedra means "stone breaker" throughout South America and the Amazon.
Raintree's chanca piedra has been sustainably harvested in the Amazon Rainforest and the capsules are 100% pure natural herb without any binders, fillers or additives.
For more complete information on this unique rainforest plant, please see plant database file on chanca piedra. Chanca piedra is also available from Raintree in a concentrated liquid extract.
In one study carried out by Dr. Weimann who kept careful records of his case studies, he stated. In ninety four percent of people suffering with 'stones', Chanca Peidra had completely eliminiated the calculi within a week or two.
Price: £14.95 – 100 Capsules 
When used for the treatment of 'Stones', Raintree Health would strongly recommend that Chanca Piedra be taken with and followed up with the appropiate organ support formula, such as, Gallbladder Support,  Kidney Support or Liver Support
It's also important to note than in all the research published over the last 20 years, no signs of toxicity or side effects have been reported in any of the human or animal studies, even in acute or chronic use. Animal studies report no genotoxic, mutagenic or carcinogenic effects.
To learn more about this wonderful rainforest plant, go to the Tropical Plant Database file on Chanca Piedra.
Direct from the Amazon, Raintree's Chanca Piedra Concentrated Extract uses new and proprietary extraction methods to concentrate and preserve the active ingredients found in this amazing Brazilian plant.It is rich in active and beneficial phytochemicals which occur naturally in this plant. Concentration methods provide the equivalent of 500 milligrams of herb per milliliter of extract.
Read more about Chanca Piedra with this article from the Health Science Institute:
The Chanca Piedra found in this high quality product has been sustainably wild harvested in Amazon Rainforest. It is all natural and has not been irradiated or fumigated. Sustainable harvesting of the renewable resources of the rainforest directly competes with destructive timber logging and can provide the economic incentive to save the rainforest from destruction. Sold in a 100 capsules per plastic bottle, the recommended dosage is 2/3 capsules twice daily.
Herbal Ingredients
Chanca Piedra
Here is a list of the herbal extracts used in this product. However in our quest for improvement and excellence, our products are being continually reviewed and modified as more data on the various plants becomes available.
As a result, the ingredients may be subject to change. Any changes will be reflected in the above list as soon as we have time to make the necessary updates. Thank You.
Thank you for your support and for choosing a Raintree product!
Ingredients: 100% pure chanca piedra whole herb (Phyllanthus niruri). No binders, fillers or additives are used.
Suggested Use: Take 2-3 capsules twice daily or as directed by a health care professional.
Contraindications: None reported.
Drug Interactions: None reported; however, it might potentiate antihypertensive, diabetic, and diuretic drugs.
Other Observations:
Chanca piedra has been documented to reduce blood pressure in animal studies. Individuals with low blood pressure should be monitored for this possible effect.
Chanca piedra has been documented with female antifertility effects in one mouse study. The use of the plant is probably contraindicated in women seeking pregnancy.
This plant has demonstrated hypoglycemic activity in animal studies. Individuals with hypoglycemia should be monitored more closely for this possible effect.
Newsletter sign up

Shopping Cart

Your cart is empty

Notice – Please Read

The information provided in this website is intended for educational and informational purposes only. It is NOT in any way, directly or indirectly, an advertisement or claim for any actual Raintree product, nor should it be construed as such. The products and various statements contained within this website have not been evaluated by the MOH, BMA or the FDA and, as such, these products are not intended to treat, cure, mitigate or prevent any disease or ailment. The references contained herein relate to local, indigenous and traditional uses only. Raintree Health categorically "does not" offer professional medical advice. We would always strongly advocate that our visitors seek advice from their own GP, private doctor or medical specialist for any ailment, illness or medical condition. You know it makes sense!