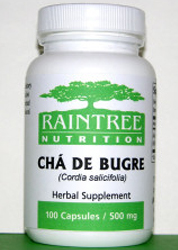 Chá de Bugre Capsules – For Weight Loss
Chá de bugre products are highly commercialized as a weight loss aid in Brazil where tea bags, capsules, and extracts of chá de bugre are commonly seen in pharmacies, stores, and even in the beach-front eateries and refreshment stands along Rio de Janeiro's beaches.
Please remember however… there is no magic bullet for weight loss that will allow you to eat anything you'd like and still lose weight. Chá de bugre is not a magic bullet either.
Price: £14.95 – 100 Capsules
The only way to lose weight is to follow a sensible, well-balanced diet that lowers caloric intake and/or to increase your physical activity to burn off the calories you are consuming.
For more complete information on this unique rainforest plant, please see plant database file on chá de bugre. To see pictures of chá de bugre, click here. Raintree's chá de bugre has been sustainably wild-harvested in the Brazilian Amazon.
Click here to learn more about our rainforest ingredients and wild harvesting methods. This product contains no binders, fillers, or exipients and is 100% finely milled natural chá de bugre. This product is backed by Raintree's Unconditional Guarantee.
Ingredients: 100% pure chá de bugre leaves (Cordia salicifolia). It is a wild harvested product—grown naturally in the Brazilian Amazon without any pesticides or fertilizers.
Suggested Use: Take 2 capsules 2-3 times daily or as desired.
Contraindications: None reported.
Drug Interactions: None reported.
Other Observations: As an appetite suppressent, it is traditionally taken 30 minutes to one hour prior to meals.
Newsletter sign up

Shopping Cart

Your cart is empty

Notice – Please Read

The information provided in this website is intended for educational and informational purposes only. It is NOT in any way, directly or indirectly, an advertisement or claim for any actual Raintree product, nor should it be construed as such. The products and various statements contained within this website have not been evaluated by the MOH, BMA or the FDA and, as such, these products are not intended to treat, cure, mitigate or prevent any disease or ailment. The references contained herein relate to local, indigenous and traditional uses only. Raintree Health categorically "does not" offer professional medical advice. We would always strongly advocate that our visitors seek advice from their own GP, private doctor or medical specialist for any ailment, illness or medical condition. You know it makes sense!