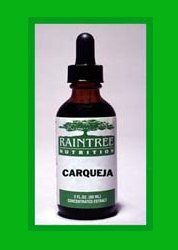 CARQUEJA EXTRACT
(discontinued for information only)

Raintree Nutrition's Concentrated Carqueja Extract uses new and proprietary extraction methods to concentrate and preserve the active ingredients found in this wonderful plant.
Concentration and extraction methods provide the equivalent of 500 mg carqueja leaf and stem (Baccharis genistelloides) per milliliter of extract. Carqueja is a rich source of flavonoids.
It contains up to 20% flavonoids, including quercetin, luteolin, nepetin, apigenin, and hispidulin.
The flavonoids are considered carqueja's main active constituents. Carqueja is a Brazilian plant (cataloged by several botanical names including Baccharis genistelloides, B. triptera, B. trinervis, and B. trimera).
To learn more about this wonderful rainforest plant, go to the Tropical Plant Database file on Carqueja. To see pictures of carqueja, click here.
Ingredients: Carqueja whole herb (Baccharis genistelloides) extracted in distilled water and 40% ethanol.
Suggested Use: Take 60 drops (2 ml) 2 or more times daily, or as directed by a healthcare professional.
Contraindications:
Not to be used during pregnancy as carqueja has demonstrated uterine stimulant and abortive effects in rats.
The use of this plant is contraindicated in persons with low blood pressure due to its documented hypotensive effects.
Carqueja has been documented to lower blood glucose levels in human and animal studies. As such, it is contraindicated in persons with hypoglycemia. Diabetics should monitor their blood sugar levels more closely if they use carqueja.
Drug Interactions: None reported, however, it may increase the effect of diabetic and antihypertensive drugs.
Other Practitioner Observations:
Carqueja has demonstrated antihepatotoxic (liver detoxifying) effects in animal studies. As such, it may speed the clearance of some drugs metabolized in the liver (decrease the half-life), thereby reducing the pharmacological effect (and/or side effects) of certain drugs required to be metabolized in the liver.
Newsletter sign up

Shopping Cart

Your cart is empty

Notice – Please Read

The information provided in this website is intended for educational and informational purposes only. It is NOT in any way, directly or indirectly, an advertisement or claim for any actual Raintree product, nor should it be construed as such. The products and various statements contained within this website have not been evaluated by the MOH, BMA or the FDA and, as such, these products are not intended to treat, cure, mitigate or prevent any disease or ailment. The references contained herein relate to local, indigenous and traditional uses only. Raintree Health categorically "does not" offer professional medical advice. We would always strongly advocate that our visitors seek advice from their own GP, private doctor or medical specialist for any ailment, illness or medical condition. You know it makes sense!