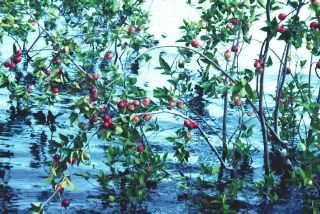 Camu-Camu
Family: Myrtaceae
Genus: Myrciaria
Species: dubia
Synonyms: Eugenia divaricata, E. grandiglandulosa, Marliera macedoi, Myrciaria caurenisis, M. divarticata, M. lanceolata, M. obscura, M. paraensis, M. phillyraeoides, M. riedeliana, M. spruceana, Psidium dubium
Ethnic names: Camu-camu, Rumberry
Price: £22.50 – 1lb / 454 gm Bag
Parts Used: Fruit
From The Healing Power of Rainforest Herbs:
CAMU-CAMU
HERBAL PROPERTIES AND ACTIONS
Main Actions
Other Actions
Standard Dosage

Fruit

Fresh Juice:

1 cup 2-3 times daily

Tablets:

1-2 g twice daily or

follow label directions based on

Vitamin C content
---
Camu-camu is a low-growing shrub found throughout the Amazon rainforest, mainly in swampy or flooded areas. It grows to a height of about 2-3 m and has large, feathery leaves. It produces round, light orange-colored fruits about the size of lemons, which contain a significant amount of vitamin C. Its high vitamin C content has created a demand for camu-camu fruit in the natural products market. Some groups are now beginning to study cultivation methods for this important new rainforest resource, which is still harvested wild throughout the Amazon region. Ethnobotanist Mark Plotkin notes in his book, Tales of a Shaman's Apprentice, that "a forest stand of camu-camu is worth twice the amount to be gained from cutting down the forest and replacing it with cattle," and he believes that camu-camu cultivation holds real economic promise for local economies. Usually, camu-camu fruit is wild-harvested in the rainforest in canoes because the fruits mature at high water or flooding seasons in the Amazon.
TRIBAL AND HERBAL MEDICINE USES
Camu-camu has never been documented as a traditional herbal remedy for any condition in the Amazon region. In fact, it was not widely eaten as a fruit by the indigenous people, due to its sour, acidic taste. In recent years, the fruits have become popular in Iquitos, Peru, where they are made into drinks and ice creams.
PLANT CHEMICALS
Camu-camu fruit has the highest recorded amount of natural vitamin C known on the planet. Oranges provide 500-4,000 ppm vitamin C, or ascorbic acid; acerola has tested in the range of 16,000 to 172,000 ppm. Camu-camu provides up to 500,000 ppm, or about 2 grams of vitamin C per 100 grams of fruit. In comparison to oranges, camu-camu provides thirty times more vitamin C, ten times more iron, three times more niacin, twice as much riboflavin, and 50% more phosphorus. Camu-camu is also a significant source of potassium, providing 711 mg per kg of fruit. It also has a full complement of minerals and amino acids that can aid in the absorption of vitamin C. Alpha-pinene and d-limonene (compounds known as terpenes) predominate as the volatile compounds in this fruit.
As with any vitamin C-rich fruit, however, the time between harvesting and consumption is crucial; the fruit may lose up to a quarter of its vitamin C content in less than a month (even if frozen). Even with this loss, camu-camu still has a dramatic edge over its next challenger, acerola, for vitamin C content.
In addition to the chemicals mentioned above, camu-camu contains beta-carotene, calcium, leucine, protein, serine, thiamin, and valine.
BIOLOGICAL ACTIVITIES AND CLINICAL RESEARCH
There has been no research conducted or published on any medicinal or therapeutic properties of camu-camu. However, there are a few herbal supplement companies in the United States marketing camu-camu extracts in powders and pills and alluding to claims of its benefits-from curing viral infections and colds/flu and cold sores and autoimmune disorders to even weight loss. The fact is there just isn't any research to back up these claims. There is some research suggesting high dosages of vitamin C offer a benefit for various illnesses and conditions, yet even some of those studies are controversial. And, remember, this research is on vitamin C, not on camu-camu specifically.
Make no mistake – camu-camu is a great source of natural vitamin C. In addition, it comes with many other naturally occurring vitamins, minerals, and amino acids that may well help with the absorption and efficient uptake of vitamin C. This is thought to be superior to just taking an ascorbic acid tablet alone. Don't believe some of the more far-reaching and far-fetched marketing claims that are in the marketplace today, however. The only studied and verified health benefit today regarding camu-camu is based upon its vitamin C content-and not other "mysterious" chemicals that surround it.
CURRENT PRACTICAL USES
In the North American nutritional market, suggested daily servings are based upon the vitamin C content in the product sold, which can vary. Adjust the serving size or dosage based upon the amount of vitamin C the product contains.
CAMU-CAMU PLANT SUMMARY
Main Preparation Method: fruit juiceMain Actions (in order): antioxidant, nutritive, astringent
Main Uses:
for its natural high vitamin C content

for colds/flu (for its vitamin C content)

for skin care/anti-aging (for its antioxidant, mineral, and vitamin content)
Properties/Actions Documented by Research: antioxidant (vitamin C)Other Properties/Actions Documented by Traditional Use: nutritive
Cautions: none
Traditional Preparation: None documented.
Contraindications: None reported. Side effects for high or excessive dosages of vitamin C include gastrointestinal disturbances and diarrhea.
Drug Interactions: None reported.
WORLDWIDE ETHNOMEDICAL USES
United States

nutritive
The above text has been quoted from The Healing Power of Rainforest Herbs by Leslie Taylor, copyrighted © 2005 All rights reserved. No part of this document may be reproduced or transmitted in any form or by any means, electronic or mechanical, including photocopying, recording, or by any information storage or retrieval system, including websites, without written permission.

† The statements contained herein have not been evaluated by the Food and Drug Administration. The information contained in this plant database file is intended for education, entertainment and information purposes only. This information is not intended to be used to diagnose, prescribe or replace proper medical care. The plant described herein is not intended to treat, cure, diagnose, mitigate or prevent any disease. Please refer to our Conditions of Use for using this plant database file and web site.
---
Published Third-Party Research on Camu-Camu
All available third-party research on camu-camu can be found at PubMed/Medline. A partial listing of the published research on camu-camu is shown below:
Inoue, T., et al. "Tropical fruit camu-camu (Myrciaria dubia) has anti-oxidative and anti-inflammatory properties." J. Cardiol. 2008 Oct; 52(2): 127-32.
Zanatta, C. F., et al. "Determination of anthocyanins from camu-camu (Myrciaria dubia) by HPLC-PDA, HPLC-MS, and NMR." J. Agric. Food Chem. 2005 Nov 30; 53(24):9531-5.
Ueda H, et al. "Aldose reductase inhibitors from the leaves of Myrciaria dubia (H. B. & K.) McVaugh." Phytomedicine. 2004; 11(7-8):652-6.
Dib Taxi, C. M., et al. "Study of the microencapsulation of camu-camu (Myrciaria dubia) juice. J. Microencapsul. 2003 Jul-Aug; 20(4):443-8.
Justi, K. C., et al. "Nutritional composition and vitamin C stability in stored camu-camu (Myrciaria dubia) pulp." Arch. Latinoam. Nutr. 2000 Dec; 50(4):405-8.
Franco, M. R., et al. "Volatile composition of some Brazilian fruits: umbu-caja (Spondias citherea), camu-camu (Myrciaria dubia), Araca-boi (Eugenia stipitata), and Cupuacu (Theobroma grandiflorum)." J. Agric. Food Chem. 2000; 48(4): 1263-5.
Bradfield R., et al. "Camu-camu–a fruit high in ascorbic acid." J. Am. Diet. Assoc. 1964 Jan; 44:28-30.
Ingredients: 100% pure camu-camu fruit (Myrciaria dubia). No binders, fillers or additives are used. This is a wild harvested plant—grown naturally in the Peruvian Amazon without any pesticides or fertilizers.
Suggested Use: This natural fruit juice powder can simply be stirred into juice or water, added to smoothies or other drinks, prepared into tea, or stuffed into capsules. The suggested use is 1 teaspoon 2-3 times daily. For more complete instrutions on preparing herbal infusions see the Methods for Preparing Herbal Remedies Page.
Contraindications: None report.
Drug Interactions: None reported.
Newsletter sign up

Shopping Cart

Your cart is empty

Notice – Please Read

The information provided in this website is intended for educational and informational purposes only. It is NOT in any way, directly or indirectly, an advertisement or claim for any actual Raintree product, nor should it be construed as such. The products and various statements contained within this website have not been evaluated by the MOH, BMA or the FDA and, as such, these products are not intended to treat, cure, mitigate or prevent any disease or ailment. The references contained herein relate to local, indigenous and traditional uses only. Raintree Health categorically "does not" offer professional medical advice. We would always strongly advocate that our visitors seek advice from their own GP, private doctor or medical specialist for any ailment, illness or medical condition. You know it makes sense!