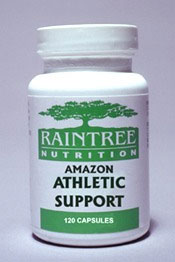 ATHLETIC SUPPORT
THE AMAZON SUPPORT RANGE©
Now you can share the knowledge of the Shaman's
THE ATHLETIC SUPPORT FORMULA
A combination of rainforest plants used in the rainforest and South America to support lean muscle growth, muscle and joint fitness and faster recovery after exercising.
Studies by Okui and Otaka dating back to 1968 revealed that the plant enhanced muscle-building without producing the negative hormonal effects steroids are noted for. By 1976, the Russian scientist V.N. Syrov was convinced that the anabolic agent in Suma was beta-ecdysterone.
This gave the Russians the competitive edge in the Olympics, and Suma began to be called "the Russian Secret." A dosage of 500 mg. of Suma twice a day helped all athletes during any stage of their training, according to a research report by Health Research which studied amateur athletes.
120 Capsules £29.95
Quantity:
Experiment participants first noted a "sense of well-being" within 3-5 days, and a new increased desire to get to their next training session. Weight lifters experienced much less pain during heavy lifts when they took Suma. These researchers recommended 500 mg. for every 40 lbs. of body weight, spread out evenly in two divided doses, for the maximum gain in muscle strength and size.During a 54-day period (almost 8 weeks), the dosage was only taken on days E1-10, 16-25, and days 31-40. Despite the 24 days off the herb, researchers reported that Suma's effects were still felt by the athletes on the off days.
This is a combination of powerful rainforest plants that combine to nutritionally support lean muscle growth, muscle and joint fitness, plus help your muscles recover faster after exercising.
Some of the botanicals in this formula are well known in the rainforest for their pain-relieving, as well as muscle relaxing, building and toning benefits, while others are used to combat mental and physical fatigue while increasing stamina and endurance.
Amazon Herbs for Athletic Performance and Recovery
Many of the plants in this unique formula contain natural plant saponins and phytosterols, which are known for their natural steroidal effects. For more in-depth information on these unique and highly effective rainforest plants click on any of the following ingredients to see just how good the properties really are.
Suggested Use: As an addition to the daily diet, take 2-3 capsules two to three times daily between meals or as directed by a health care professional.
Newsletter sign up

Shopping Cart

Your cart is empty

Notice – Please Read

The information provided in this website is intended for educational and informational purposes only. It is NOT in any way, directly or indirectly, an advertisement or claim for any actual Raintree product, nor should it be construed as such. The products and various statements contained within this website have not been evaluated by the MOH, BMA or the FDA and, as such, these products are not intended to treat, cure, mitigate or prevent any disease or ailment. The references contained herein relate to local, indigenous and traditional uses only. Raintree Health categorically "does not" offer professional medical advice. We would always strongly advocate that our visitors seek advice from their own GP, private doctor or medical specialist for any ailment, illness or medical condition. You know it makes sense!