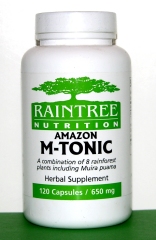 Amazon M-Tonic   Out of stock
A botanical formula which combines 8 plants used by the shamans of the rainforest and herbal practitioners in South America for male vigor and as specific tonics for men.
For more information on the individual ingredients in Amazon M-Tonic, follow the links provided to the plant database files in the tropical plant database.
Each rainforest botanical in this professional formula has been sustainably harvested in the Amazon Rainforest. To learn more about our rainforest ingredients and wild harvesting methods, please go to the database.
Price: £21.95 – 120 Capsules 
This product contains no binders, fillers, chemicals, or exipients and is 100% finely milled natural plants.
Ingredients: A proprietary blend of muira puama, maca, suma, sarsaparilla, catuaba, chuchuhuasi, nettle, and jatoba. This formula is 100% pure natural ground plants. No binders, fillers or other additives are used.
These plants have grown naturally in the richness of the Amazon without any pesticides or fertilizers.
Suggested Use:Take 2 capsules 2-3 times daily. Specifically formulated for men.
Contraindications: None.
Drug Interactions: May enhance the effect of high blood pressure medications.
Other Practitioner Observations: Several plants in this formula have been documented to reduce blood pressure. Individuals with low blood pressure should be monitored for this possible effect.
Newsletter sign up

Shopping Cart

Your cart is empty

Notice – Please Read

The information provided in this website is intended for educational and informational purposes only. It is NOT in any way, directly or indirectly, an advertisement or claim for any actual Raintree product, nor should it be construed as such. The products and various statements contained within this website have not been evaluated by the MOH, BMA or the FDA and, as such, these products are not intended to treat, cure, mitigate or prevent any disease or ailment. The references contained herein relate to local, indigenous and traditional uses only. Raintree Health categorically "does not" offer professional medical advice. We would always strongly advocate that our visitors seek advice from their own GP, private doctor or medical specialist for any ailment, illness or medical condition. You know it makes sense!